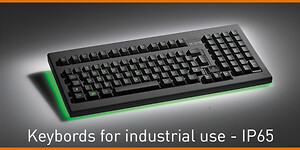 Industrial keyboards – light and very robust design
Let us present plastic keyboards from Printec, impress with their light and very robust design. They are protected against dust and splash water, with various integrated mouse functions and, if required, even shielded. Our portfolio ranges from freely programmable keyboards to fully backlit models to very flat and compact versions. Of course, we can customize the colors and lettering individually for our customers. See a range of the keyboards:
Industrial keyboard DS104W
Menu & Windows keys for Office applications integrated – finger mouse available.
Complete protection of the electronic components, all contacts and mechanic guide elements against dust and water splashes
Designed for industrial use - hostile environments
Convenient and positive operation due to travel keys with tactile feel
Lasered keycaps, anti-glare and no abrasion
Protection: IP 65
Connection options: USB, PS2 and AT
Programmable keyboard W30-W60-W90.
Can be individually adjusted – Keypads in three sizes with 30, 60 or 90 keys.
Comprehensive protection of the electronic components, the guide elements and contacts against the ingress of dust and water jets
High operating comfort due to long-stroke keys
All keys are completely freely programmable (data strings with up to 16/32 digits possible)
Programmable on 2 levels (double assignment of each key with shift)
Protection: IP 65
Welcome to contact us for solutions, products or support: info@recab.com
Recab Sweden
Västberga Allé 5
SE – 126 30 Hägersten
Phone: + 46 8 683 03 00
More News from Recab:
Recab Catalog – Developed products & solutions
Winmate: L140 Series Rugged Laptop - For Challenging Work
Recab News: VPX with Intel's 11th Generation Processors
Sony STARVIS IMX462 sensor for Color Industrial Cameras
NEW version: Hirschmann Operating System (HiOS) V9